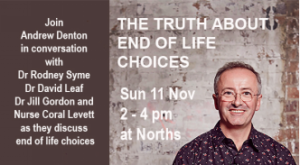 An outstanding group of experts gave us the facts in this Forum on voluntary assisted dying support. Essential viewing!
The emotional plea by Jan, wife of Tim Edwards, and their daughter, Jessica, who spoke at the meeting about the torturous death of Tim from mesothelioma certainly bought tears to my eyes! I just cannot understand why our MPs continue to ignore such futile suffering, especially those who profess to be Christian. Where is their compassion?
I had the privilege of meeting Tim not long before he died, and together we went to lobby our local MP, Jai Rowell.
Every MP who is against this choice, and all members of the 'ACL" (Australian Christian Lobby) and the 'HOPE no euthanasia' group should watch the complete forum and become familiar with the truth behind the issue, and then perhaps understand why up to 85% of Australians support voluntary assisted dying.
Ian Wood