We have the encouraging news that the Victorian Parliament lower house has passed their Voluntary Assisted Dying Bill 2017 by 47 votes to 37. It now has to go the the upper house for a vote there, so it is certainly not a foregone conclusion.
It was with considerable emotion that I watched the final vote in the Victorian Parliament Lower House on Friday morning 20th October after a debate of marathon proportions.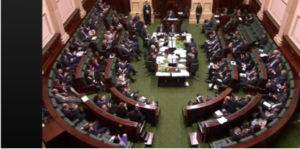 The successful vote is announced by the Speaker.
I trust that the Victorian Upper House will be equally supportive Continue reading