On Saturday 23rd July, 2022, during a brief visit to South Australia, I was delighted to be presented with an Honorary Life Membership Award by Frances Coombe, President of Voluntary Assisted Dying South Australia (VADSA).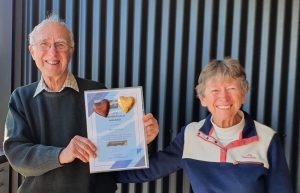 Ian Wood receiving Life Membership Award from Frances Coombe.
In accepting this Award, I expressed my thanks to Frances Coombe and the VADSA team for this recognition, and my humble gratitude to every person who has helped our group in so many ways, and who have continued to motivate me in my work of advocating for Voluntary Assisted Dying as an additional compassionate end-of-life choice from the aspect of Christian support.
I recalled that I first found out about SAVES, as it was known then, late in 2004 .  My Mother was dying in the last stages of Alzheimer's in December, and I wrote to our local MP Rob Kerin and to the Premier Mike Rann challenging them to go and visit my Mother in her terrible emaciated condition – saying there must be better and more compassionate ways of dying.  Of course they never came. Sadly, access to VAD is still not available to those with dementia related illnesses in Australia.
My activity really started when late in 2008 Frances Coombe asked me and also Rev Trevor Bensch to consider forming a Christian support group.  Trevor had previously written letters to the SA MPs in support in 2007.  Then the three of us met in the North Adelaide Baptist Church Vestry and Christians Supporting Choice for Voluntary Euthanasia was officially formed 9.2.2009. We had our first article in the Advertiser on 23rd Feb 2009 by Jill Pengilly.
Now, every state has passed a Voluntary Assisted Dying law, amazing progress over the last few years.   It is a recognition that while good palliative care is important, the additional VAD choice is also needed, providing great peace of mind to those using it.
Ian Wood, National Co-ordinator and Spokesperson, Christians Supporting Choice for Voluntary Assisted Dying.  Continue reading