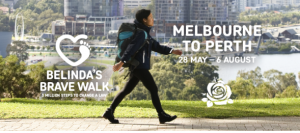 Belinda Teh starts her walk from Melbourne to Perth in memory of her Mum's horrific and futile end of life suffering from breast cancer, to raise the profile of Voluntary Assisted Dying and to help convince MP's of the need for this compassionate choice in Western Australia.  Walk safely Belinda, with best wishes, Ian Wood
Belinda says: "As a devout Catholic and nurse for 39 years – much of her nursing career spent in aged care – my mum could hardly be better informed about the moral and medical considerations at the end of one's own life.
My beautiful mum Mareia experienced a horrific death which modern medicine and caring specialists could not save her from – and I don't want her suffering to be in vain. 
I want WA to introduce voluntary assisted dying laws so that no Western Australian with a terminal illness has to die the way my mum did, enduring unspeakable pain and suffering that cannot be palliated in their final weeks, days and hours. 
Mum was a devout Catholic her whole life and took much joy in practising her faith. Equally, the day she asked for assisted dying, she did so without a hint of shame, and to me that means that she had reconciled her religious beliefs with her personal wishes in her own way. I like to say that "she had a chat with the man upstairs, and they figured it out between them."
I want to send a message of hope to other Western Australians who have had their hearts broken, and a message of urgency to the politicians who are representing us when I leave Melbourne on 28 May, as I plan to trek west on foot, arriving in Perth on 6 August."
Belinda will be sharing her adventure on Facebook, you can stay updated by liking her Facebook Page: https://www.facebook.com/BelindasBraveWalk/
To read more about Belinda and her mum, and to support Go Gentle Australia, go to http://www.belindasbravewalk.org.au/
Photo and story quoted on this website with permission.