I was delighted to be given the opportunity today to address the Tasmanian MLC's in Christian support for the End of Life Choices (VAD) Bill, introduced by Mike Gaffney, Independent for Mersey, and soon to be debated in the Upper House. Our Tasmanian Representative, Norma Jamieson, also spoke in support.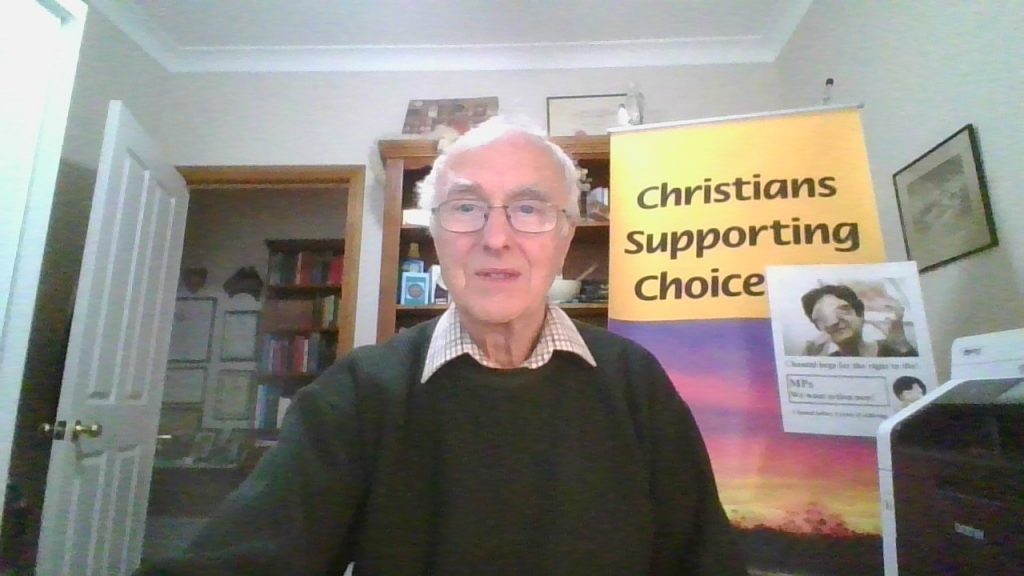 Address to TAS Parliament MLC's by Ian Wood.  26.8.2020
Thank you for this opportunity to address you as Spokesperson for Christians Supporting Choice for Voluntary Assisted Dying.
My background – My name is Ian Wood. I was a community Pharmacist in Port Pirie, South Australia, for 40 years, so that involved caring for people. My wife and I raised two children, and we enjoyed community involvement in heritage conservation, classical music, and entertaining at aged care facilities with music and singing
I had long supported assisted dying choice but became public in support in 2009 when Rev Trevor Bensch, a retired Minister and hospital chaplain at the church I attended, decided that Christians who supported VAD needed a voice and we formed our group.
We are – Christians who believe that, as a demonstration of love and compassion, those with a terminal or hopeless illness should have the option of a pain-free, peaceful and dignified death with legal voluntary assisted dying.
We currently have about 1250 member/supporters  Many members have died waiting for legislation.
Our vision essentially is –"Do unto others", and "Love thy neighbour", which leads to 'How is love best served?'
Conservative Christians in the past opposed the abolition of slavery, opposed pain relief in childbirth for women, and opposed women becoming doctors and lawyers – we find a woman who passed her law exams in USA was told by a judge she could not practice as the "Law of the Creator" was she should be a wife and mother.  Conservative Christians opposed voting and property rights for women. In every case this Christian opposition to social change has been proved wrong!
Conservative Christians such as the ACL (Australian Christian Lobby) opposed marriage equality and discussion on sexual orientation.  We believe those Christians were wrong!
With regards to sexual orientation, we find that to its eternal shame many of the church hierarchy indulged in a massive coverup of paedophile clergy, in many cases leading to the tragic suicide of the innocent victims, in a cruel irony with the church opposition to VAD. Clearly those Christians were very wrong!
So how is love best served for a person who is about to die, but has suffering they find unbearable?
The ACL and most church hierarchy say hold that person's hand, say that we are with you, but let the suffering continue. Where is their Christian empathy, we might well ask? Curiously, the Christian Lobby do not appear to give religious reasons for opposing VAD.
The ACL recent approach in Tasmania has included Headlines such as – 49 new clauses in the Bill, have an Inquiry, and scaremongering about the alleged 'vulnerable'.  None of which address helping the truly vulnerable dying patient to be put in control of their suffering – to say they have endured enough.  Of course, suffering can be much more than pain – drowning in your own saliva from MND, fungating tumours, are just two examples. Three Australian Inquiries have all reached the same conclusion – a VAD law is needed. Another Inquiry is not needed.  The mass of overwhelming evidence in support of VAD has already been collected. The most recent YouGov Poll in QLD had 79% Anglican, 68% Catholic and 83% Uniting /Presbyterian in support.
Argument against VAD when our group started was often based on Thou Shalt not Kill, which more accurately translated should be 'not kill with malice' ie murder. Yet not far away from this instruction the Bible also states that children who answer back their parents or overeat should be stoned, and specifies death for many other offences such a man gathering sticks on the Sabbath, and for a person having sex with their mother-in-law. Now, religious people opposing VAD tend NOT to mention religion!
However, there are exceptions.  Prior to the last Western Australia Election we asked candidates their views on VAD and the vast majority of those who responded indicated support.  However, these 2 quotes from the Australian Christians Party candidates are informative to us all!
Rosemary F C Steineck, Candidate for South Perth, wrote "….a woman who was dying of a terminal …highly invasive spinal form of bone cancer …producing increasing agony which could not be palliated by normal pain relief. She was two months in dying. Why could not the doctor, with her permission, sever her spinal cord above the site of the cancer? Yes, she would have become a paraplegic. Yes, she would have been confined to a wheelchair. But would that really have mattered so much at the end of her life? She could have died pain-free."                                                                                                         
And another candidate…"I once had an uncle who rebelled against the Lord all his life.  On his death bed he refused to acknowledge his sin and his Savior.  God gave him time to repent but he refused.   If he had been administered an assisted death the time he had to repent would have been so much shorter.  Euthanasia stops God's work in all our lives at the time we choose rather than the time he chooses. 
I would say how utterly obscene!  I leave you to draw your conclusions.
Mr Brohier is a barrister and lawyer, representing the ACL. From a legal perspective I would ask him to consider the unanimous decision by 9 judges of The Supreme Court of Canada, in February 2015:
"The prohibition on physician-assisted dying infringes the right to life, liberty and security of the person in a manner that is not in accordance with the principles of fundamental justice,"                                                                                                         
The Court gave the Canadian Parliament 12 months to introduce legislation to comply with the Supreme Court guidelines.
I submit the same right to fundamental justice applies to all Australians.
Why should a conservative Christian lobby group assume the right to try to determine how every Tasmanian should die?
Compare the Brohier and ACL approach with that of Greg Barnes, Hobart Human Rights lawyer, who says in The Mercury, 17.Aug: "Assisted Dying Laws ensure we are all treated with humanity" and "We are forced to linger and suffer because of the minority".
It is significant that Quebec, formerly the most Catholic province in Canada, preceded all of Canada with their Medical Aid in Dying. A 2012 Parliament Report found  "After studying the changes in social values, medicine and the law, and in light of our comprehensive review of the issues and the arguments raised by hundreds of witnesses and thousands of comments, we have come to the conclusion that an additional option is needed in the continuum of end-of-life care: euthanasia, inthe form of medical aid in dying. "
This led to the passing of the Quebec "Act respecting end-of life care" Bill 52, by 94 votes to 22 on June 5, 2014, to a standing ovation.
We need to be aware of the fact that access to VAD is palliative in its own right. Paradoxically, many who are accepted for an assisted death live longer than those who do not request assistance. It removes the toxic fear about how they might die.
Please study the folder you will receive from me, which sets out other Christian support, and includes comment on the important value of PC and its limitations. Please view the video message from Anglican Archbishop Emeritus Desmond Tutu in support of VAD.
I must comment on the Live&Die Well leaflet handed out at Catholic Parishes in Tasmania last Sunday.  Parishioners were asked to write to all MPs, always use the word 'suicide' and NOT to use religious arguments as a reason for opposing VAD choice! This is the ultimate in hypocrisy. Here we have a church that obviously has learnt nothing from the bloodshed and suffering of the Inquisition and the Crusades, in a last ditch attempt to retain and impose their medieval and outdated views about suffering on us all
This is an issue in our society whose time has come – The vast majority of Tasmanians trust that you, their  MPs,  will conclude that Christian love is best served by putting the patient in control of their suffering, under the provisions of this Bill
Those with religious or other beliefs against VAD simply do not go through the rigorous process of requesting it.
To conclude – Catholic theologian, Prof. Hans Kung, states: "As a Christian and a theologian I am convinced that the all-merciful God, who has given men and women freedom and responsibility for their lives, has also left to dying people the responsibility for making a conscientious decision about the manner and time of their deaths. This is a responsibility which neither the state nor the church, neither a theologian nor a doctor, can take away"
 I am happy to try to answer any questions.
>>>>>>>>>>>>>>>>>>>>>>>>>>>>>>>>>>>>>>>>>>>>>>
Dear reader.  If you like this post and support Voluntary Assisted Dying choice then please Sign Up as a member, if you are not already a member of our group.  Membership is free.  If you prefer not to Sign Up, but just add your name in support of Christian choice for VAD, you are very welcome.  Please just click on this link – it takes less that 30 seconds! https://christiansforvad.org.au/add-your-name/