As reported in The Age, 18.5.2018    https://www.theage.com.au/politics/act/assisted-dying-an-ill-considered-and-dehumanising-practice-archbishop-20180518-p4zg5p.html
Assisted dying is an "ill-considered and dehumanising" practice reflecting a society in which there is more loneliness, Canberra's Catholic archbishop Christopher Prowse has told an inquiry.
He spoke at an ACT Legislative Assembly committee's second day of hearings into assisted dying in which doctors rubbished claims that palliative care could always manage end of life pain.
Archbishop Prowse told the committee it was a "lonely policy that only an atomised society would think about", and said people approaching death experienced a "rollercoaster" that saw them take back comments they wanted to die earlier.
He said it would be a "fundamental mistake" to put vulnerable people at "grave risk" by allowing assisted dying.
When asked what was a good death, Archbishop Prowse recounted a time he sat with a woman as she died, and she squeezed his hand.
"I could tell she was on a journey but how grateful she was when she was with us," he said.
"She was ready to go, ready to go and approach death."
He admitted people he had spent time with as they were dying had said they wanted to die right away. However they changed their mind later, he said.
"Then people say, 'I'm feeling a lot better today'."
Ian Wood responds to Archbishop Prowse, as follows ……
Archbishop C. Prowse,                                                                                                                                                                                                    Canberra, ACT
I refer to the report of your evidence given to the ACT Assisted Dying hearing as reported in The Age, 18.5.2018.
Keith, described here by his wife, was on a "journey" too, but was certainly not "grateful" to still be alive "with us"!  (See attachment 1 below.)
You ignore the fact that over 1/3 of terminal patients in Oregon USA, who are given access to voluntary assisted dying medication, at their considered, repeated rational request, do not go on to take that fatal medication, but it does provide peace of mind in that they can choose to exit life if the suffering becomes unbearable. Having access is palliative in its own right.
Certainly when my sister-in-law Joyce died from ovarian cancer that had spread to her bones, she was not capable of squeezing any hands during her last two days! She said goodbye to her husband and family on a Sunday afternoon, but lingered on in a semi coma for another two days. In moments of lucidity she would ask why am I still here? Her husband is still suffering from the trauma of watching these last days. How much better and more compassionate it would have been for Joyce if she could have asked for, and been given medication to assist her to go to sleep and not wake up, after those final goodbyes.
The truly vulnerable are those who have futile treatment inflicted on them by well meaning doctors – treatment that doctors frequently admit they would not accept for themselves.   "Up to 70% of people now die in acute hospitals, surrounded by well meaning strangers, inflicting all that medicine has to offer; often resulting in a painful, distressing and degrading end to their life," and "Clinicians themselves are often complicit in refusing to face the inevitability of dying and death," states Dr Ken Hillman, Professor of intensive care at the University of NSW in Sydney.
Dr Charlie Corke, Palliative Care, Geelong Hospital, VIC says, "He 'inflicts' treatments he would not want done on himself."
Two other examples are attached where assisted dying choice would have been a humane, compassionate and Christian option. (See attachment 2 and 3 below)
Yet you and the hierarchy of the Catholic Church insist that your beliefs on assisted dying choice should override the rights of other Australians to choose. Not between life and death, because by definition a terminal patient is going to die – but between two ways of dying – one quick and painfree.
Evidence recently given by countless victims of Catholic paedophile priests clearly show the abyss and total lack of understanding by the Catholic Church for the suffering endured by those victims. Many of these victims went on to take their own lives in dreadful circumstances in a cruel irony compared with the Church position on voluntary assisted dying.
I certainly do not write in the hope of changing your mind on this issue. By all means feel free to endure what ever suffering comes your way in your end of life, but I do pray and urge you not to use your position to force me and every other Australian to do the same.
Sincerely
IAN WOOD
>>>>>>>>>>>>>>>>>>>>>>>>>>>>>>>>>>>>>>>>>>>>>>>>>>>>>>>>>>>>
Attachment 1.
RIP Keith   Died October 26 2013, aged 85 years
I'm writing to state my case for the legislation of choice for an assisted death. On Friday 1 November 2013 I buried my husband of 61 years. Early this year he was diagnosed with aggressive Lymphoma which was strangling his Intestine. Sounds horrendous, doesn't it?
His final 3 days were spent in hospital and on the 3rd night he lapsed into semiconsciousness. He had been having litres of fluid drained from his abdomen at intervals during the treatment process and in the early hours of the 4th day fluid in large quantities continued to rise into his throat as he was gurgling and drowning while he struggled dreadfully  to get a breath. All the while he kept raising his hand to his head imploring someone to help him. This inhumane action continued without ceasing for 7 hours!! ! How I wished we lived in a compassionate, loving society that approved an injection that would save him from this hideous state.
A Nurse entered the room towards the end, saying, "I have been crying reading his Advanced Health Directive where he wrote that it was his wish to have some kind person euthanise him." This document had been signed by him, a Doctor and a Justice of the Peace some years ago but of course that wish is entirely overlooked by Australian Law at the present time. It was just his wish – as it was mine.  Towards the end, one and a half litres of blood soaked fluid gushed out of his mouth before he took his final breath. Those hours will haunt me forever. Why should anyone die that horribly?
When it's your own family having to endure this cruel, inhumanity and it's you sitting beside the bed waiting and wishing someone had bitten the bullet for change on this grievous, outmoded law of ours, you feel and know the need of the urgency for change. As a practising Christian couple we viewed the present law as ungodly. We are God's hands and feet, he has no other, and while we do nothing this horrendous practice will continue. Please, please be strong enough to give the Ending Life with Dignity (No2) Bill 2013 the thumbs up. The majority of Australians would be enormously relieved. South Australia would be applauded.
Sincerely,   Joan S      A Christians supporting Choice for V.E. member
>>>>>>>>>>>>>>>>>>>>>>>>>>>>>>>>>>>>>>>>>>>>>>>>>>
Attachment 2.
No human should have to die such an horrific death.
Our members of Parliament have the power to allow a quick and more peaceful death to people like Flora.
Above left. Flora before her illness.
Flora Lormier, suffered from multiple sclerosis since she was 20 but her condition worsened over the past two years. She begged her family to help her die (left, taken by her daughter Tracey Taylor in her final days, and pictured right at a family wedding when she was younger.
Ms Taylor, from Glenrothes, Scotland, told the Daily Record: 'Mum was just left to suffer – it was torture, absolute torture. We were all around her when she passed but it wasn't peaceful.
'These pictures are what people need to see – this is why we are fighting for the right to die.
'There wasn't a thing we could do to help free her from her pain. We had morphine and sleeping pills and she begged us to help her end it, but we couldn't.
'She was like a prisoner of war who had been in a concentration camp.
'So why is it OK for a human to suffer? The Government need to see why people want the choice to decide when to die.'
Read more: http://www.dailymail.co.uk/health/article-4116308/This-fighting-right-die-Family-release-harrowing-pictures-MS-suffering-mother-final-days-torture.html#ixzz4VharNIoe
Article from the Daily Mail, UK, copied by Ian Wood
Please support voluntary assisted dying  and give CHOICE to people in NSW who are dying just like Flora.  
>>>>>>>>>>>>>>>>>>>>>>>>>>>>>>>>>>>>>>>>>>>>>>>>>>>>>>>
Attachment 3.
Chantal Sebire begs French president for the right to die peacefully
From correspondents in Dijon, FranceAgence France-Presse  February 27, 2008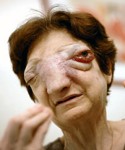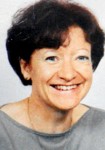 Disfigurement … 'an animal would not be allowed to endure what I have to endure,' says cancer sufferer Chantal Sebire.
Tumours make Chantal Sebire's face unrecognisable
Teacher says disease has led to attrocious suffering
A FRENCH woman badly disfigured by facial tumours caused by a rare and incurable disease has appealed to President Nicolas Sarkozy to allow her to die by euthanasia.
In an interview with the Agence France-Presse news agency, former school teacher Chantal Sebire, 52, begged for the right to end the "atrocious" suffering inflicted on her by the disease which has rendered her face unrecognisable because of growing tumours.
"An animal would not be allowed to endure what I have to endure," she said from her home in Plombieres-les-Dijon in central France, asking French media and Mr Sarkozy to allow her a dignified death.
Euthanasia is illegal in France, unlike in some other European countries such as the Netherlands and Belgium.
Ms Sebire told AFP that she suffered from a very rare disease called esthesioneuroblastoma, which attacks the nasal cavity. It had left her blind and had robbed her of almost all other senses, leaving her in terrible pain.
"In 2000, I lost my sense of smell and taste, and then the tumour evolved and ate into my jaws, before attacking the eye socket. I lost my sight in October last year," she said. The disease caused "atrocious bouts of pain that can last up to four hours at a time".
Pleading to be allowed to die serenely, the mother of three said that only 200 cases of the disease had been reported globally in the last 20 years.
This article was a deciding factor in Christians Supporting Choice for VE co-founder, Ian Wood's decision to take public stand on DWD.  He says, "Chantal would not have had to suffer in Switzerland, Netherlands, Belgium, Luxembourg, Oregon,or Washington State, Vermont, Montana, Colorado, Washington DC & California USA, and now Canada and asks are we so different in France or Australia?"
Christians support Voluntary Assisted Dying choice!  
>>>>>>>>>>>>>>>>>>>>>>>>>>>>>>>>>>>>>>>>>>>>>>>>>>>>>>>>>>>>>>>>>>>>>>>>>>>>>>>>>>>>>>